Rector Office & Computer Department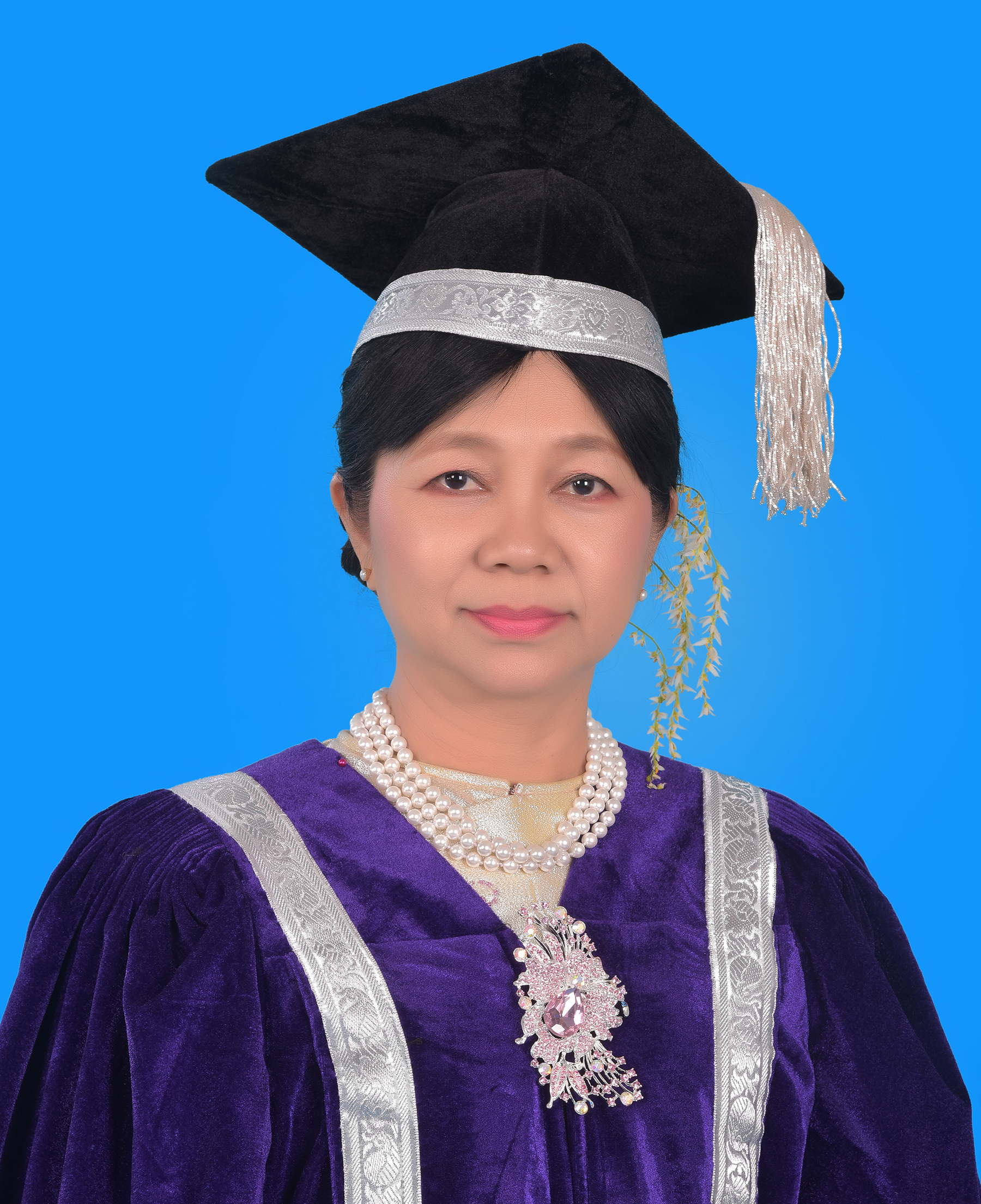 Dr. Khin San San Win
Rector
Ministry of Education, Department of Higher Education, Mandalar University
Dr Myin Zu Minn is a Pro-rector of Mandalar Degree College.
Currently I am doing for Academic Session and International Relations of Yadanabon University. Before to Yadanabon University, I was Professor and Head of the Department of Zoology at University of Yangon.
I studied my PhD degree at Bangalore University, INDIA. My research interests are Biodiversity, Water Quality and Fish Diversity and I have an experience on Butterfly Diversity at Wildlife Sanctuaries and Protected Area in Dry Zone of Central Myanmar. I am also Part Time Faculty in Mandalay University for PhD candidates especially for the Genetics.  Moreover, I am one of the Member of Myanmar Academy of Arts and Science (MAAS) especially for the life science. I acted as one of the EIA survey collaborators for Middle Paunglong Electricity Project in 2012.
Education
Professor, 2009-2016
I served as Professor in three universities, Panglong University, Magway University and University of Yangon. During this post, I acted as Chief Convenor of National Examination for Biology. I am also Chairperson of the Curriculum Development for the Biology in Basic Education. I served as Chairperson of the Board of Studies, when I was at University of Yangon. For Universities Research Journal, I was Chief Editor for the Zoology Session. The re-introduction of undergraduate outstanding students program to University of Yangon also implemented at 2013-2014.
Associate Professor, 2005-2009
Teaching and researches were carried out during this time.
Lecturer, 1999-2005
We started our lectures to students and at the same time took researches as team work. Started supervision to Post Graduated students.
Assistant Lecturer, 1994-1999
I was responsible for the practical works for the Zoology Specialization Students.
Demonstrator, 1986-1994
Started my career and I was trained by Professors and my seniors and I was responsible for practical instructions.
Attended international trainings and symposia including
– Programme on Higher Education Management, Teaching, Research and Strategic Planning at the University of Oxford, 2014
– Regional Consultation on Multi-sectoral Policies for containing Non Communicable Diseases in South-East Asia, WHO, 2014
– Conference for World Aquaculture, Korea, 2015
– USAID Connecting the Mekong through Education and Training (COMET) – Mekong Skills2Work Training of Trainers
– Strategic Leadership for New Normal Leaders, SEAMEO RIHED, Thailand, 2016
– Curriculum Design, Development and Evaluation for Universities in the Greater Mekong Sub-region, Thailand, 2016
Work Experience
Myin Zu Minn is Pro-Rector in Yadanabon University. In Myanmar Universities, one Rector and two Pro-Rectors are the main administrator and managing in Academic, Admin, Budgets and Other communications with Regional Government for Regional Development and International Communications. At the same time, I am supervising PhD candidates from University of Yangon and University of Mandalay. Moreover, I am acting as Part Time Faculty for PhD students in University of Mandalay. My PhD candidates are carrying out Water Quality and Fish Diversity, Ecological Study on Endemic Turtle, Animal Malaria and Animal Behaviour for Red Panda.
All of the Budgets are supported by government and one chief finance officer is in University Administrative Board. Altogether 52908 students including Day Students (20939) and Distance Educations (31969). In our Yadanabon University, 25 specializations are teaching to the students who come from various parts of the country especially from Upper Myanmar. For faculty members, altogether 743 including 39 Professors and 44 Associate Professors. Moreover, 287 admin staff including one Rector and Two Pro-Rectors.
Our University is trying to get the collaborations with international universities. Currently we signed three MoU with Gifu University (Japan), Northern Illinois University (US) and Chaing Mai University (Thailand). Now we are trying getting more internationalization.
Accomplishments
Publications
– Insecticide susceptibility studies of malathion, carbofuran and alphamethrin in 23 strains of Aedes aegypti. Pestology, XXX (7), July, 2006, pp. 21-27.
– Insecticide susceptibility studies in thirty strains of Anopheles stephensi Liston – A malaria vector to alphamethrin, bifenthrin (synthetic pyrethroids) and neem (a botanical insecticide). Pestology, XXX (10), October, 2006. pp.21-28
– Insecticide susceptibility studies in 30 strains of Anopheles stephensi Liston (A malaria vector) to DDT, malathion and carbofuran and 23 strains of Aedes aegypti (Linnaeus) (Vector for dengue and chikungunya) to DDT and neeem. Pestology. XXXI (2) February, 2007. 38-44.
– Greyish black- a new autosomal larval colour mutant in the malaria mosquito Anopheles stephensi Liston (Journal of Cytology and Genetics)
– Insecticides susceptibility studies of mosquito larvae from Mandya District, Karnataka state. (Journal of Communicable Diseases)
– Mosquito Biodiversity and their distribution in Mandya District, Karnataka state, India. (Entomon)
– Biochemical study of Alphamethrin Resistance in Aedes aegypti (L), A Yellow Fever Mosquito (Jour. Myan. Acad. Arts & Sc. 2009, Vol. VIII, No 4.)
– Genetics Study of Bifenthrin ( a Synthetic Pyrethroid) Resistance in Anopheles stephensi Liston 1901, a Malaria Mosquito (Jour. Myan. Acad. Arts & Sc. 2009, Vol. VIII, No 4.)
– Mosquito biodiversity and Distribution in Mandya district, Karnataka state, India, Entomon 2007, 32(4), 263-8
– Toxicological effect of Malathion and Alphamethrin insecticides on reproductive potential in Aedes aegypti (l.) A yellow fever mosquito Pesstology, 2008 32(9) 39-43
– Occurrence of Mosquitoes from Yenangyaung Environment Yenangyaung Degree College Journal 2009
– Quantitative analysis of proteins and some enzymes on malathion resistant and susceptible strains of Aedes aegypti (L.), A Yellow Fever Mosquito (Jour. Myan. Acad. Arts & Sc. 2009, Vol. VIII, No 4.)
– Biochemical study of alphamethrin resistance in Aedes aegypti (L). A Yellow Fever Mosquito (Jour. Myan. Acad. Arts & Sc. 2009, Vol. VIII, No 4.)
– 10 Insecticides Susceptibility Studies of Mosquito Larvae from Mandya District, Karnataka State The Journal of communicable diseases. 42, no. 1, (2010): 71
– New species in the family Ctenidae Keyserling, 1877 from high altitude habitats in Myanmar, with the first case of penetration of the female???s cuticle by a male in the RTA-clade (Arachnida: Araneae: Ctenidae) Zootaxa, v3994 n2 (20150731): 235